Media Coverage of The Adventures of Flapjack 
MAGAZINE ARTICLES
See the April 2014 edition of Style Magazine to Get to Know – Dan Cohen and visit our Interviews with Flap and Dan page to see Dan's responses to various questions posed by quizzical journalist, Amber Foster.
VIDEO
The following video is of Flapjack's 1st book signing event which includes a brief interview with Dan Cohen.  It was created by Chris Ardoin of Ardoin Media (ardoinmedia.net) who generously donated his time in support of Dan's efforts to raise funds to be donated to NoKidHungry.org through the sales of The Adventures of Flapjack – Finding Where I Belong.
PODCAST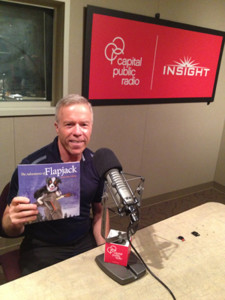 Click to listen to the podcast of the interview between Dan Cohen, author, and Beth Ruyak, host of Insight on Capital Public Radio.