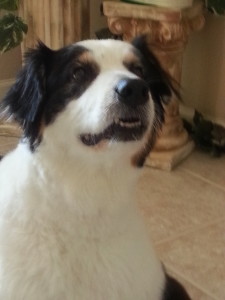 Flap loves to hear from his fans and he gets especially excited when they send him photos and drawings.  Here are a few he thought you might enjoy too!  Feel free to Connect with Flap and let him know if you're enjoying his books and if you have any questions he can answer for you.
---
Flap was so happy that Flapjack's (aka Jack's) mom and dad picked his book that he promised to send a copy of The Collar of Courage and Saying Goodbye to him and his kitty sibling, Waffle, as soon as both were available.  Flapjack kept his promise and here's a picture of Flap's paw pal receiving them! You can also see more of Waffle and Flapjack on Instagram at @waffleandflapjack.
---
You can only imagine Flap's surprise when he opened a bulging package delivered by the Post Office to find letters and drawings from his "Flap Fans" sent to him from Mrs. Olesen's 2nd and 3rd grade classes in Maine.
Mrs. Olesen read Flap's books to the children and they immediately formed a bond with our intrepid Aussie.  He's so thrilled!  He wishes he could visit them in person.
Here are the drawings along with Flap's Fans' letters just as they wrote them.  He hopes you enjoy reading them as much as he does!
---