We hope you enjoy these excerpts from both of Flapjack's adventures!
The Adventures of Flapjack – Finding Where I Belong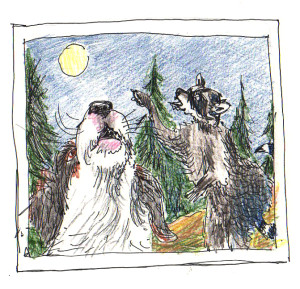 "Did you ever dine with a plump porcupine?
Or sing out of tune with a raucous raccoon?
Have you raced over rocks with a bushy-tailed fox?
Or danced with a skunk and a cheerful chipmunk?
Can you believe I did them all?
   Well, I did…
                                 …in the forest when I was small."
---
The Adventures of Flapjack – The Collar of Courage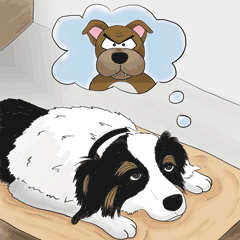 "I loved going to that big green park where friends and I would play.  
But there's one dog we didn't like much; we hoped he'd stay away.
My friends all call him Pit Bully, the meanest dog around.  
He'd scratch us, nip us, growl at us, and knock us to the ground.
Now, most pit bulls are kind and peaceful, wouldn't hurt a fly.
Pit Bully was rough and surly, but I don't know why."
---
IT'S HERE!  The Adventures of Flapjack –

Saying Goodbye
"Many years have passed since I adopted Mom and Dad,
and found there were exciting new adventures to be had.
New paths to walk, new friends to meet, new obstacles to climb,
but also sad occasions we must face from time to time."